Tocqueville
Tocqueville
Via A. de Tocqueville
Milano
Celebs: Vieri, Coco, Inzaghi and other Milan or Inter players (especially on sunday evening)
(Francesco celebrated his birthday there in 2005!)
---

Club Hollywood
Corso Como 15
Milano
One of the best known clubs of Milano. There isn't an Italian celeb who hasn't been there.
Celebs : among the many many famous guests are Coco, Inzaghi, Capello, Enrique Iglesias, Eros Ramazzotti, Cannavaro, Gilardino, Nesta, Tacchinardi, Pirlo, Sheva, Toldo, Cassano, Gattuso .... need I continue?
---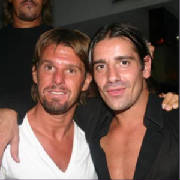 Pineta
viale Romagna, 46 - 48016
Milano Marittima (RA)
One of Italy's most exclusive nightclubs is located in Milano Marittima near Ravenna. Francesco has been spotted there several times and even celebrated christmas at a party organised by Pineta.
Besides Francesco, the club also attracts other celebs such as Inzaghi, Galante, Iuliano, Adriano, Ronaldo,Eros Ramazzotti, Laura Pausini and Jamiroquai's Jay Kay!